Exploring Dreams
February 11 2021
New Moon in Aquarius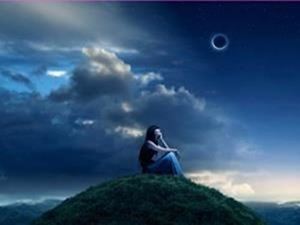 We've all heard it being said – The Age of Aquarius is upon us, and whether or not you're a believer, this New Moon has something special about it!
On the 11th of February 2021, a New Moon joins a conglomeration of planets in this free-thinking sign – Mercury, Venus, Jupiter and Saturn! It's practically a party, and the idealism will be running oh-so-high!
It's a friendly New Moon, one that has very few difficult aspects. The ruler of this New Moon is Saturn in his traditional home sign of Aquarius, connected to Jupiter and in a square to Uranus. The square to Uranus is applying, which means that it's getting stronger and stronger until these two planets meet perfectly a few days later, on February 17th.
Hence, this New Moon may be the harbinger of the new beginnings in society, in our communities, the internet and so on, just before the immense disruption of the square between Saturn and Uranus. Now's the time where we may personally and collectively rise up and rebel and set our sails for a new future.
There will be some challenges, as Aquarius is a very "heady" sign. The mental energy at this New Moon will be particularly intense and we may even feel slightly overstimulated. It's common to feel quite ungrounded over Aquarius periods, so it's essential that this New Moon, we do try and manifest our ideals into reality and not let our dreams remain just that – dreams.
And although most New Moons are inward times, this one invites us to join with like-minded people to sow new seeds. Having a gathering of some kind with the idea of prayer, communication, problem solving or a common ideal will be a wonderful way to spend this time.
We may also want to keep in mind that whatever we set out to do now, has the potential to unfold with startling effects over the next several months. The is always the case with New Moons, after all. The Saturn-Uranus square also helps to show us what needs to be broken down, dismantled and changed.
If we are not resistant, and as long as we don't cling onto old ideas with a "god complex", we can find some adaptability with these fast-moving shifts. If not, we may find ourselves in a deep state of resistance, and for all our "open-mindedness", we may find we're actually being a little dogmatic!
The partial conjunction of Venus and Jupiter at 12 degrees of Aquarius does help to soften and sweeten some of the shocks and bumps. If you look, friends are all around you at this New Moon – that is one of its blessings! You might even make some new friends, so don't be scared to reach out and try new people!
Lastly, Mars does also square this New Moon, so there are some disruptions, mostly when it comes to our plans. We may also speak out of turn, or invite conflict that we never meant to, so let's proceed with peace in mind. Being open to changing our plans at a moment's notice over the next few months may also be important.