Time To Shine
July 01 2020
July Monthly Horoscope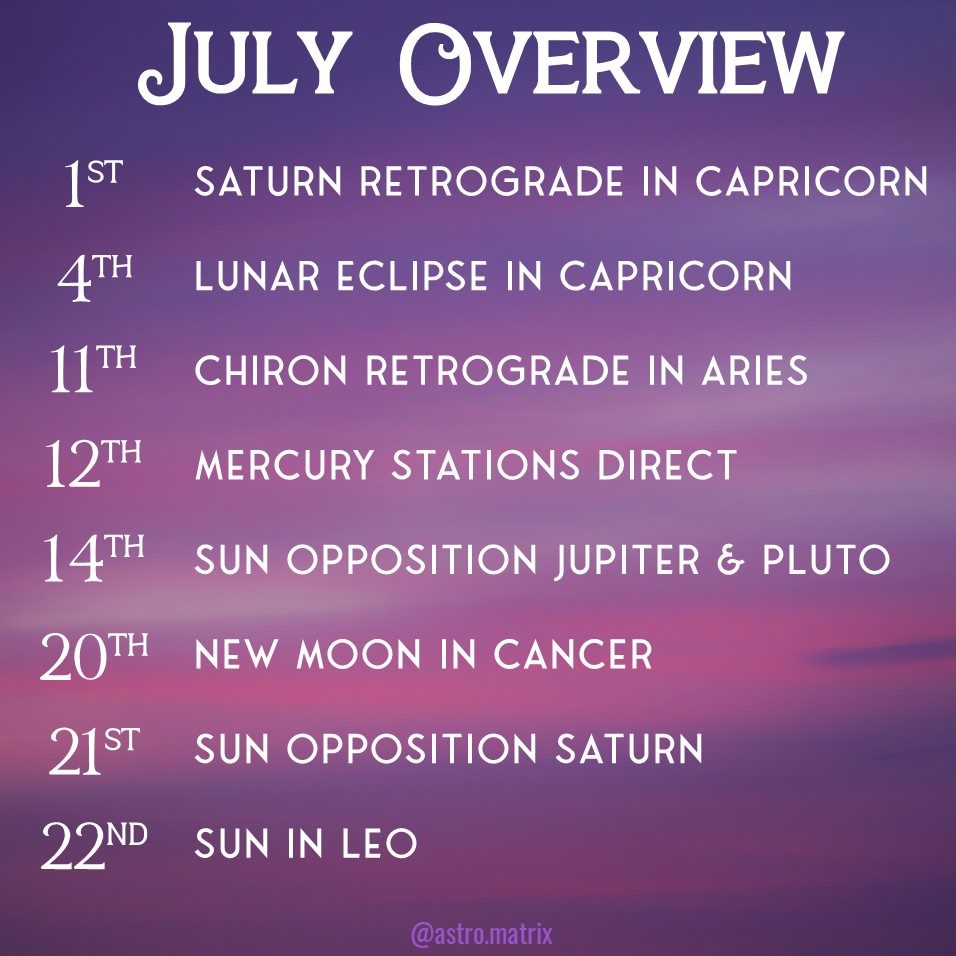 Saturn returns to Capricorn July 1st, where it will stay until December 16th, 2020. This is a chance to finish the climb up the Capricorn mountain, which we began back in December 2017. It's time to let go of our old baggage so that we carry only the essentials towards the summit.
On July 4-5th, we will be ending a two-year cycle with the full moon penumbral lunar eclipse at 13 degrees in Capricorn. This is the final eclipse on the Capricorn-Cancer axis, with the first having been in mid-July of 2018. This is the culmination of a massive cycle centred around family and security, as well as the feminine and masculine.
Chiron in Aries stations retrograde on July 11th, bringing an opportunity to tend to any emotional wounds around your confidence, rights, independence, and passion. If you have been struggling with putting yourself first due to fears of rejection, this gives you a chance to renew yourself and rebuild strength.
The Sun's opposition to Jupiter on July 14th also has a conjunction between Mars and Chiron. It's possible that you may overstretch yourself in an effort to prove your strength.
On July 20th the Cancer New Moon is one of relief, not just because a New Moon means a fresh start, but also since it is not an eclipse! The recent three-in-a-row run of lunar and solar eclipses has had a rather "full on" quality, with life's challenges seemingly nonstop for some people.
As the Sun moves into Leo on July 22nd, you have an opportunity to break from heavier influences and opens a new act in life's great drama. You have a stronger sense of dignity, nobility and warmth of heart. It's time to shine, add a touch of color and drama to our lives, and perform. Like the flowers and fruit of the season, blossoming and ripened, this is a time when you want to enjoy and express yourself. You are more generous and grand in your gestures and attitudes.