Magnetic Intensity
April 27 2021
Full Moon in Scorpio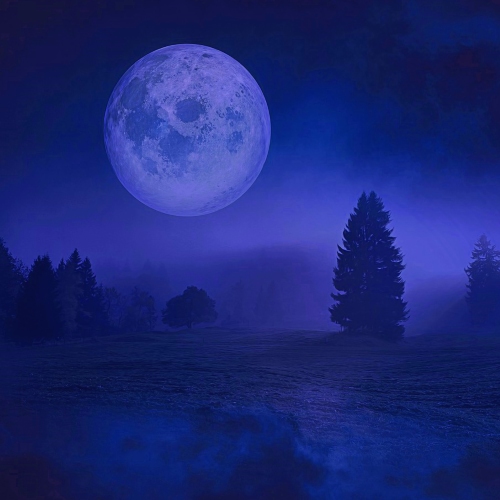 A Full Moon in intense Scorpio is upon us, happening on 27th April 2021, at 7 degrees of this watery, sensitive and secretive sign. In traditional astrology, the Moon is known to have its "fall" in the sign of Scorpio, which means that we can get a glimpse of what we know as the "dark side of the Moon". Hysterias, obsessions and vengeful feelings are common with the Moon in Scorpio.
But it does have another side, too. Used consciously, this Full Moon is ideal for dramatic purging of toxic situations that simply no longer have a place in our lives. It's a great time to cut ties, thereby empowering ourselves. It's also a good idea to keep in mind the other side of this transformative Scorpio Moon – there are 4 planets in the calmer sign of Taurus, and so we can feel a push and pull between peace and power.
There's a balance to be struck, for without the depth of Scorpio, we would simply skate long the surface of life, forever in the comfort zone of earthy, sensual Taurus. And without the patience of Taurus we'd be forever dealing with the drama of Scorpio.
Taurus and Scorpio also have a lot to do with the topics of money, finances and security. And with Uranus so very close to this Full Moon, we might except a sudden, unexpected change or resolution to any financial topics that have been going on in our lives for the last few months.
We have to learn to surrender at this Full Moon. Trying to assume control – which both Taurus and Scorpio desire – will simply frustrate us.
Uranus is ensuring that no one could ever have predicted the outcome of this Full Moon. It is a Full Moon that feels uncertain and a little chaotic, and our greatest gift will be adaptability. If we can adapt, we may find ourselves (kind of) enjoying the thrill of this Full Moon, flowing with the craziness!
There is a limiting aspect from Saturn, which the Full Moon is squaring. The Sun, Moon, Uranus and Venus square this stern planet, creating a sense of restriction and feeling stuck, despite the sweeping changes. Perhaps it's a sense that everything is changing, yet nothing at the same time. A conundrum. Structures are crumbling, yet it's hard to take any certain action, what with the traditional ruler of this Full Moon, Mars, in passive Cancer.
Mars in Cancer has fight in him, but it's hard to channel it. We may retreat in a sulk over this Full Moon over events we cannot control or change - or we can choose to use the opportunities we have to shift our attitude. Sometimes, when life is a lot, all we can do is respond differently.
If there's one mantra we can keep in in over this Full Moon, it would be to "let go, let go, let go". To find our own inner peace amongst the storm, and to release, to really release. Purging may be physical, mental or ritual and this Full Moon really is an opportunity to detox, in so many ways.