Balanced Growth
October 06 2021
New Moon in Libra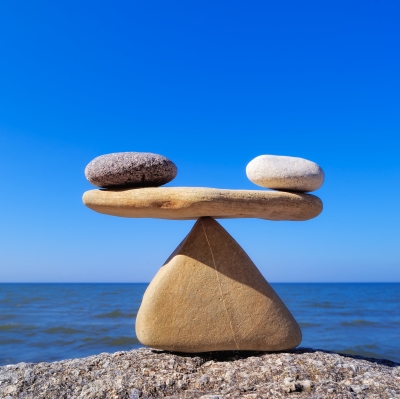 Opportunities
Harmonious Teamwork
New Partnerships
The upcoming New Moon at 13 degrees of Libra is one of the best of the year so far. With only pleasant and harmonious aspects surrounding this lunation, it's a time for balanced growth, peaceful negotiations and inviting new relationship opportunities over the next several months.
The New Moon in Libra is drama-free and calm, and is a lunation in which we can all relax and enjoy working on creatively manifesting our most valued ideals. After all, the ruler of the New Moon is lady Venus, and even she is peacefully linked with a forgiving and soulful trine to planet Neptune. Romantic feelings can be extra heightened now, so whether we are partnered up or single, love is the order of the day. Setting an intention to love ourselves and others more deeply by creating greater balance in our lives is what this New Moon is urging us to do. If we've felt out of kilter or off-key, this is the ideal opportunity to set things right again.
What's more, this is the kind of New Moon that offers us the help and support of others, bringing us partnerships and the chance of pleasurable teamwork. If there's a negotiation that we need to tackle now, or a deal to be struck, then this is the time to do it. In a few months' time, we can see the win-win outcome of the plans we put in place right now.
Driven Mars is closely linked to this New Moon, offering not only the ability to set goals, but also, the energy that we need in order to achieve them. There's an emphasis on justice and doing the right thing, and the ability to get anything we desire, simply through being willing to compromise with others. Of course, with Libra, there's always the chance of being overly people-pleasing, so we do have to be careful of subverting our own needs and desires for the sake of others'.
This New Moon is in a peaceful and beneficial trine to both Saturn and Jupiter, the archetypal principles of structure and growth. This blesses us with the chance to invite both concepts into our future aspirations. These planets can gift us with the discipline, as well as the expansion we need to accomplish our intentions. Organization, commitment, longevity and good fortune are all on our side over this special period.
Yes, Mercury is still retrograde, but with his strong link to Jupiter, his slowdown isn't as dire as it usually is. Our minds are expanding, and we're having the right kinds of conversations, thinking of the perfect ideas and inviting positivity, hope and faith into our words and thoughts. This is a good sign for the world we are in at the moment, as we are all much in need of some good news for a change.
This New Moon can set us on a balanced, growth-oriented path when it comes to love, finances and manifesting our most cherished values. It's one that invites co-operation, action and creative passion. Set your sights high during this New Moon, because lunations like this come few and far between.
Useful New Moon in Libra Crystals