Artistic Pursuits
May 11 2021
New Moon in Taurus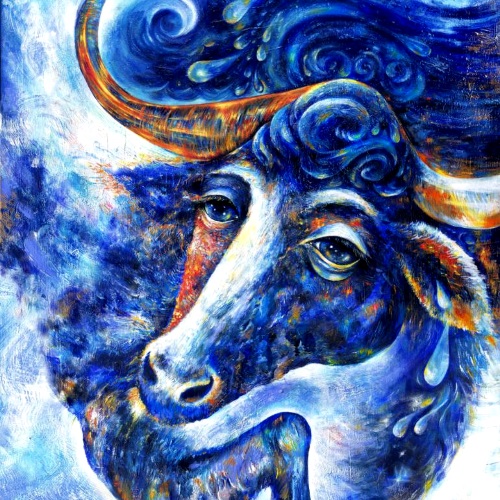 There's a grounding, stable and quite powerful New Moon in Taurus coming our way on the 11th of May, 2021. When Lady Luna is in this sign the sign of her exaltation, the Moon is very comfortable, even luxurious and decadent!
Taurus is a sign that reminds us to get back indoor bodies, whether through the simple joys of walking in nature, drinking a hot cup of tea in the morning, staying in bed with a good book, or running ourselves a relaxing bubble bath. We might want to set intentions, then, at this New Moon, to get back into our physical world in whatever way we find is most pleasurable to us. It's possible we may have been rushing around in the previous weeks, achieving, conquering and pioneering, and sometimes, we just need to slow down and smell the roses, so to speak.
The ruler of this New Moon – the ruler of Taurus – is, of course, Venus. Venus will be sitting in the sign of Gemini during this New Moon, with no major aspects to any planets other than a growing trine to Saturn. When Venus is in Gemini, she lends a light feel to the earthy energies of Taurus, encouraging us to socialize, connect and enjoy variety. She brings that airy energy we need to move away from our comfort zones and seek new ways to experience pleasure and joy in our material world and relationships.
This can be a great Moon to start new financial ventures, as Taurus rules all things money-related. And, with a strong trine from this New Moon to powerful Pluto, we might be able to completely revamp our relationship to money and our values.
This trine can also be very beneficial for our romantic commitments over the next few months, as well as our finances and career. However, Pluto does often also indicate that things need to changed – drastically – in order for new seeds to take place. These next few months may see some transformation occur, and whatever happens, we need to keep in mind that integration is inevitable, that the outcome will be to our greatest good, and, in fact, empowering!
There is a separating square from this New Moon to Saturn, which can put a small dampener on the lusciousness of this New Moon, but the truth is that the planet of restriction and responsibility is just too far off to really make any major impact. There may be glimmers of a shadow, a shadow that tells us we shouldn't luxuriate, that we are not worthy, that we don't deserve good things, that there's lack.
However, it's easier to move past this shadow and embrace our sense of power instead, and to move purposefully, patiently, methodically and determinedly towards our chosen goals and heart's desires. Nothing can stop Taurus energy when it's set its mind to a course, and that's an energy we can carry all the way through to the coming future!