Acting out Obsessions
October 22 2020
Sun in Scorpio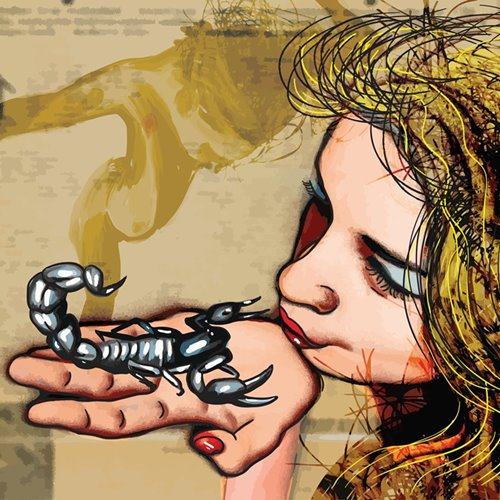 On October 23, 2020, the Sun moves into the stealthy sign of Scorpio, officially kickstarting Scorpio Season which lasts until November 21st. This marks a time of increased intensity in our personal relationships when we start to seek deeper and more intimate connections with others. It is always a potent zodiac season, however, this transit lacks the normal fierce and harsh significance since there will be no more squares to the stellium in Capricorn or oppositions to Mars in Aries. It has the potential to be a penetrating time of stellar connections with a feel-good quality. A time to bask in the Sun's penetrating radiance.
Mercury joins the Sun in Scorpio, retrograding through the fixed water sign until October 27th, when it then moves back into Libra. On October 25th, the Sun and Mercury retrograde will conjunct at 2 degrees of Scorpio, increasing our intuition and illuminating something that we are meant to see. These two celestial bodies create a forensic force capable of revealing previously hidden areas in our important partnerships. This time of deep review is preparing us to make needed and necessary adjustments.
On October 31st, we will be privy to a rare Blue Moon, meaning the second Full Moon of the month. This Super Moon, the second of three consecutive Super Moons, will be occurring in the Fixed Earth sign of Taurus, which is Scorpios opposite sign. The Sun will shine a light on the dark, elusive areas of Scorpio, while the Moon directly across the chart, illuminates the need to embody some real changes in our interpersonal relationship dynamics, based on what is being shown. Both luminaries serve to clarify any existing alliances that we have outgrown, as well as the need to confirm a deeper commitment to others.
One of the main guiding attributes of Scorpio is the ability to be guided by what is desired. It is the sign ruled by Pluto, the Lord of the underworld, and all that is hidden in the unseen depths of our psyche. Scorpio is an archetype of profound intimacy and powerful emotional extremes. Shallowness is not favored by the inquisitive nature of this mysterious sign. In fact, the quest is always to discover the depths of what lies in the suppressed, secretive, and sometimes sultry areas of interest. The sensual nature of a Scorpio persona is often mistaken for shyness, with energy that exudes mystery and intrigue. Known as a strong-willed fixed sign, it can present as jealous, manipulative, and even vindictive. The higher vibration of the Sun's transit through Scorpio can be seriously transformative, resulting in a tremendous time of healing.