Rinse & Repeat
June 01 2022
June Monthly Horoscope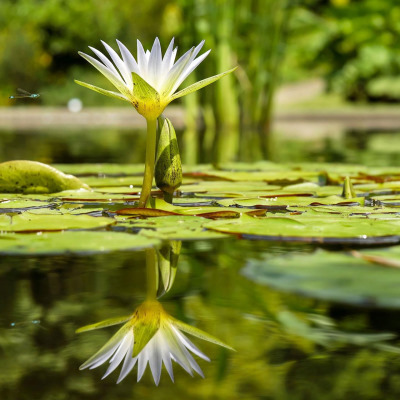 Coming off the back of very hot astrological May, June applies the brakes on both Saturn and Neptune stationing retrograde! Thankfully, Mercury will be turning direct on June 3rd. Once again, it's important to remember that retrogrades are always here to teach us something, to help us reflect, review, renew and take responsibility. Be aware that Mercury will still be in shadow until June 18th.
The retrograde journey of Saturn in Aquarius on June 4th – the last time he will go retrograde here – offers us a final opportunity to integrate what we've learnt over these last few years. And, although we may chafe against restriction and want to push against the walls that may come up around us, it's important that we sit tight and be willing to do the work.
Mercury will return to Gemini on June 13th for the last time this year after being in retrograde. If your retrograde period was quite difficult it is important to be cautious until after June 18th when Mercury finally arrives at the place it was before the retrograde started.
The Full Moon in Sagittarius on June 14th, at 7.52am EDT, invites us all to fully explore and define our truth – but to also balance that truth with clear, rational logic and objectivity.
Cancer Season begins on June 21st. This marks the longest day of the year ( in the northern hemisphere), that special moment in the year when the Sun reaches its zenith in the sky and 'stands still' for three days before beginning its descent. As one of the cardinal points of the year, the Solstice is marked as the ingress of the Sun into the zodiac sign of Cancer the crab, the water sign ruled by the Moon.
Venus enters chatty Gemini on June 22nd. With the Gemini energy being a lot more excitable and energized than Taurus, we may seek to be more social – may feel like being more charismatic and flirtier, while at the same time forming some kind of intellectual connection with others.
June 28th brings a double whammy with Neptune stationing retrograde along with the New Moon in Cancer. Seeing as the Moon rules this tender water sign, it's an especially strong lunation, with themes around Mothering and the Inner Child coming to the surface to be healed. The Neptune retrograde period will amplify the qualities of Neptune in Pisces and the ethereal realm beyond the physical. In the higher vibration, we may experience an increase in dream activity, heightened intuitive abilities, and a feeling of compassionate interconnectedness with humanity and the heavens.
Useful June Monthly Horoscope Crystals