Energetic Release
October 01 2021
October Monthly Horoscope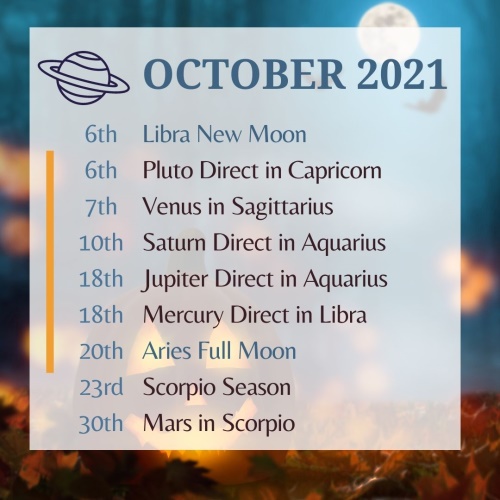 Retrograde season is coming to a close in October with 4 planets coming out of retrograde motion!
The upcoming New Moon at 13 degrees of Libra on October 6th is one of the best of the year so far. With only pleasant and harmonious aspects surrounding this lunation, it's a time for balanced growth, peaceful negotiations and inviting new relationship opportunities over the next several months.
Also Pluto finally stations direct on the 6th also. For about six months we have been facing deep shifts with Pluto Retrograde and we may begin to integrate the profound, yet subtle, changes over the last few months and weeks. In fact, once this is over, we may look back and look forward to the next time that Pluto works his special kind of magic.
With Venus in big-hearted, all-knowing and optimistic Sagittarius on October 7th we will feel a strong desire for more freedom, adventure and spontaneity in our relationships. When Venus moves from Scorpio to Sagittarius, romantic energy shifts from intense to buoyant. Sagittarius, of course, has its intense moments, considering it is a fire sign. However, its energy is considerably less focused; and, while Scorpio is most concerned with intimacy with a specific person, Sagittarius' love is of a more universal kind.
Saturn moves into direct motion on October 10th. Saturn is here to make sure we have the appropriate boundaries for our future, whether that pertains to loosening, strengthening, or creating them. With it now in direct motion we have more flexibility with our own personal projects as well as furthering our careers and responsibilities.
Jupiter and Mercury station direct on October 18th. Jupiter in direct motion allows our growth to sprout faster than when it is in retrograde motion, all our prior delays and plans can now move ahead faster with Mercury stationing direct also.
On October 20th, a powerful and transformative Full Moon in Aries rises. This lunation has themes of power, growth and catharsis attached to it. There are both positive and challenging aspects linked to this Full Moon, all of which can be used to step into the fullest and wisest expression of ourselves.
Scorpio season begins on October 23rd. This marks a time of increased intensity in our personal relationships when we start to seek deeper and more intimate connections with others. It is always a potent zodiac season
The Scorpio energy will also increase just before halloween with Mars moving into this intense sign on October 30th. The desire to experience our emotional depths, as well as the urge to penetrate the surface of life in order to explore deeper levels of existence, is powerful. We are fascinated with what others tend to repress, and are drawn to experiencing and understanding these things. We are less inclined to avoid important issues now
Useful October Monthly Horoscope Crystals