Changing Directions
October 01 2022
October Monthly Horoscope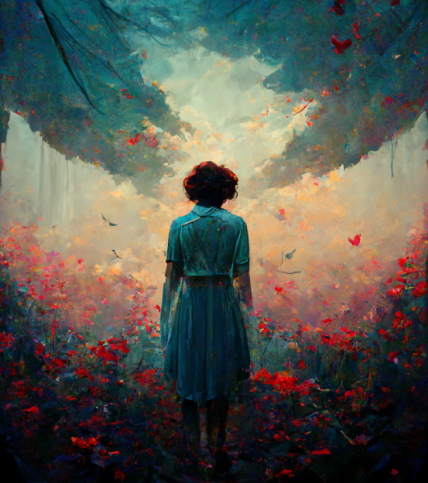 October is a month of changing directions with 3 planets coming out of retrograde and Mars turning retrograde the day before Halloween.
If you've spent the last three weeks or so feeling mentally scrambled, misunderstood, or just plain indecisive, relief is near. Mercury, the planet that rules the mind, is turning direct on October 2nd, after having gone through the third retrograde phase this year! While now Mercury being still in its shadow phase until October 16th where it reaches the point in Libra where it initially went retrograde. Its great to initially take things slowly even if you feel like racing out the gate.
Slow moving Pluto also stations direct on October 8th. Pluto can allow us to move into the depths of our subconscious minds where our deep desires lie. Now after confronting our demons and darkness we can allow ourselves to integrate these lessons into our everyday lives.
The Full Moon in Aries on October 9th is the last lunation before Eclipse Season, which is set to unfold in just two weeks' time. Urgency and impatience to tie up loose ends and get mind, body and soul ready may be prevalent, and relationships are also likely to take center stage now.
Conjunct the Wounded Healed, Chiron, we are urged to face our triggers, insecurities and shortcomings with bravery and open-hearted vulnerability. As the first sign of the zodiac, Aries has a beautiful innocence about it, a touching naivety. This openness is why Aries believes in the best of everyone, and despite their defensive, warrior-like nature, this sign is often hurt much more easily and quickly than most
Saturn moves direct on October 23rd after months in retrograde where we have probably needed to rearrange, change and breakdown our life and work structures in order to create a brighter future. Because Saturn always, always has a gift to offer, once we've shouldered our burdens and accepted our responsibilities. After all, he is the Master Teacher. When we master the energy of Saturn, we will emerge stronger, wiser, firmer in our own authority and deeply humbled.
With Venus moves into passionate and profound Scorpio on October 23rd and there can be a focus on deep emotional connection. Scorpio is all about being intense and intimate. This transit may really motivate us to claim our sexuality and sensuality.
There will be a strong desire to go deep within ourselves, as well as to have deep connections with others. During this time we don't just want to connect on a surface level but on a soul level. This may illuminate sexual traumas, shame and insecurities, making it a great time to re-evaluate your perceptions of sex and intimacy. To begin building healthier, more empowered perceptions.
Scorpio season also begins on October 23rd. Scorpio Season happens at the same time as Halloween and Eclipse Season, and thus, the potent energies of this sign can be called upon to manifest fierce transformation.
Scorpio is the sign of the Alchemist and the Shaman, the sign that rules the concept of death and rebirth. It's that time of year when the gears shift from light and breezy to complex, passionate and slightly on the darker side of life. But dark doesn't mean bad – in fact, it's absolutely essential for us as a collective to integrate all sides of us – from the acceptable to the 'unacceptable'. Scorpio strives to show us our shadows so that we can be whole and live a meaningful, more balanced existence.
The Final Eclipse Season for 2022 is ushered in by an intense Scorpio New Moon Solar Eclipse on October 25th. Although La Luna has some strength by being in a water sign, Scorpio is still quite a tumultuous place for this gentle planet to be. As it's said: 'still waters run deep', and this is an important adage to keep in mind during this potentially overwhelming season. Looking at what's beneath the surface may be intimidating, but constructive.
Echoes of the Eclipses in April and May of this year ripple throughout these next two weeks, in which the themes coming up are likely to be around resources, values, finances, power, control, release, surrenderer, change versus stability and relationships, to name a few. Scorpio is a sign that craves and yearns for evolution, but needs to learn to relinquish its grip on the familiar. It's only in the act of letting go that this transformation happens.
When Mercury is in the watery realms of Scorpio from October 29th, he gains the powers of deeper insight and intuition, becoming immensely psychic. There's nothing that Mercury in Scorpio doesn't see, and although this can be a period in which we decide to keep our secrets close, it's also likely that we're primed for intense and meaningful conversations. Scorpio doesn't play around. This sign has a consuming desire to get to the root of a topic and to talk about all things taboo, forbidden and unseen. This is the ideal time to enroll for therapy, to be journaling, practicing Tarot or diving deeper into Astrology. Scorpio is, after all, linked to the occult and has no fear of mysteries. In fact, mysteries are wholly fascinating to Scorpio, and we can be drawn towards investigating and understanding what we were afraid to before.
Mars stations retrograde on October 30th in the busy, talkative and inquistive sign of Gemini. Mars is in this sign a long time due to this retrograde and will not move out until March 2023. Its a great time for learning new things especially that involve your mind or mental capacities. The retrograde period allows us to slow down a little and rethink what we are doing with our lives. The shadow side of Mars in Gemini can be too clever for their own good, and at times, our choice of language could be cutting and provocative. The retrograde period will be a time to be especially careful of our words and of taking on too many mental tasks.
Useful October Monthly Horoscope Crystals