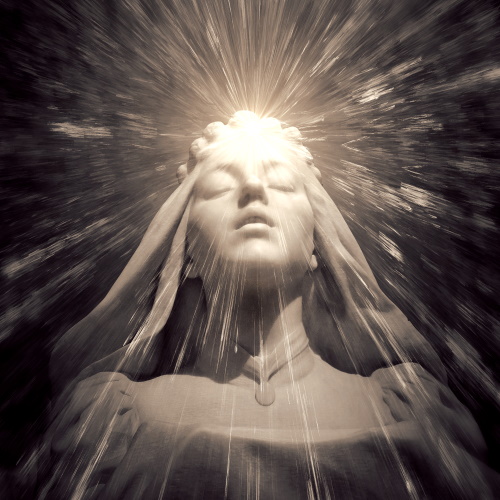 As September begins, the we have a Virgo stellium - that's a cluster of three or more planets occupying one zodiac sign. The Sun, talkative Mercury, emotive Venus AND passionate Mars all in Virgos Lair. This energy is incredibly potent and will linger into mid-September when we start to see the planets transit into Libra. Perfectionist and habitual themes such as your sleep patterns,your work ethic, housework, exercise, fitness, stress and depression can be felt stronger.
Last week, we saw Mars and Venus shift into Virgo and also conjunct, representing a new cycle that is about to begin within our romantic lives and relationships. Virgo isn't often seen as a romantic sign, but she is a goddess of the earth signs, which means we are looking for more pleasure. We just don't want to waste it on a passing fancy because what we're after is perfection
Mercury is the planet that rules our communication and our thought process. Having just finally left his shadow zone about two weeks prior, he's now operating fully in exalted Virgo. This is good because many of us need to have important and lingering conversations we've yet been able to. This stellium, thanks to Mercury shifting into Virgo, is about the best of everything: our love lives, finances and career.
The September 13th Full Moon at 21° Pisces intertwines with the opposition of Neptune and Mars at 17° Pisces. This planetary pattern, reflects being on the verge of decisive action. Yet bringing thoughts and plans to fruition is not easy in an atmosphere of uncertainty. Actions are imagined but not carried out or are never completed. Something begun in haste could lack follow-through.
Mercury and Venus both enter Libra on September 14th and you will have more of a well-balanced, honest and refined mind. You will less inclined to study or educate yourself generally. You will have more natural charm, social grace, social ideals and affectionate nature break down all barriers and you will have many opportunities for romance. To a very marked degree your general well-being and emotional health depend on sound and meaningful relationships - both social and romantic. Your relationships will also have more intellectual, social and companionable qualities
In other news, Saturn turns direct on September 18th. This planet of discipline and commitment will begin to stabilize your life direction in the most empowering way. You have probabvly spent the last few months integrating or processing various work and career areas of your life. Take radical personal responsibility is the only way to truly become the authority of your situation.
September brings the third of this year's confounding Jupiter-Neptune squares. With overoptimistic Jupiter and foggy Neptune butting heads, making any kind of clear path will be challenging, especially when they reach an exact alignment on September 21st. All year long, Jupiter and Neptune have traveled in close proximity, giving everyone a wicked case of "grass is greener" syndrome. It's been hard to know which direction to turn. They'll trail each other through October.
A New Moon in Libra on September 28th is when you should start any new alliance, either in your personal life or in business. Partnerships forged under this energy will be fair, poised, and truly melodious. The Libra New Moon offers chances to lay new foundations in relationships. This may evolve from recognising the lack of potential in your current relationship, since the New Moon closely opposes wounded Chiron. Accepting that some things cannot be mended, repeated, or reframed can be quite progressive. You may stop trying to force an issue that has been going nowhere, despite your intense hope and efforts.