New Beginnings
July 20 2020
New Moon in Cancer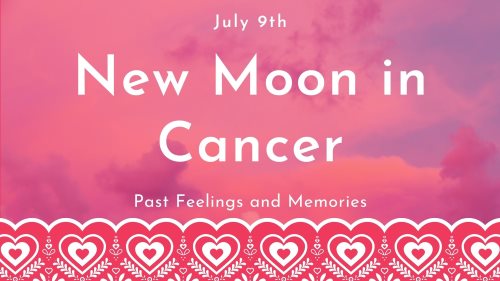 The atmosphere around the Cancer New Moon is one of relief, not just because a New Moon means a fresh start, but also it is not an eclipse! The recent unusual three eclipses has had a rather "full on" quality, with life's challenges seemingly nonstop for some people.
With the Moon in Cancer, issues of home, family, and property are spotlighted; there may be adjustments in your place of residence or a chance to move if you find it necessary to gain more comfort. Cancer is a cardinal water sign, guiding us into the realm of our feelings and deep inner world, the place where creation begins. To change what's manifesting in our lives, we have to start at the level of our subconscious, which is far more powerful than our conscious minds and is programmed in our earliest years, starting in the womb.
The opposition of Jupiter, Pluto, and Saturn to the New Moon indicates the possibility of an uneasy phase of finding the way forward. There can be a tug of war between negative past behaviors and a genuine need to change and move forward. As buoyant as Jupiter can be, the planet sits retrograde in Capricorn, this 'Fall' position makes it harder to grow and our past karma may keep us trapped for the time being.
Where a Jupiter and Pluto conjunction can show positive power is in the ability to delve deep, research and gain deeper understanding of our current issues. Jupiter's urge to speak the truth is so different from Pluto's secretive, hidden side. It is important to share and discuss any valuable information or solutions with people you can trust.
It is worth noting that both the Moon and Saturn are in their natural signs, giving them dignity and strength. Saturn is a little disadvantaged through a retrograde status. The resulting tension acts like a restraint on the new beginnings normally associated with a New Moon, imposing rules and regulations, limits and trials.