Crystals
Amethyst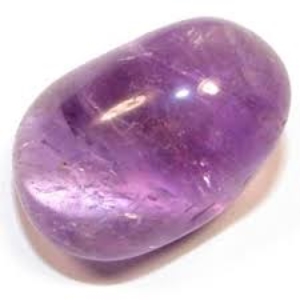 Crystals
The first historical references to the use of crystals come from ancient the Ancient Sumerians, who included crystals in magic formulas. The Ancient Egyptians used lapis lazuli, turquoise, carnelian, emerald and clear quartz in their jewellery. They also carved grave amulets of the same gems. The Ancient Egyptians used stones primarily for protection and health
Although no longer in use medicinally, gemstones continued to hold meaning. Until recently, jet was popularly worn by those in mourning, and garnet was often worn in times of war. There is a tradition in a local family here in southwest England: every female descendent wears an antique moonstone necklace for her wedding, which has been in the family for generations. It was only recently that one family member realised this was a fertility symbol.
In the 1980s, with the advent of the New Age culture, the use of crystals and gemstones began to re-emerge as a healing method. Much of the practise was drawn from old traditions, with more information gained by experimentation and channelling
Amethyst
Amethyst vibrations can move subtle energies. It can help understand the deeper underlying factor of the source of addictions. It was traditionally used to treat headaches and to calm anxiety and psychological pain. It balances the endocrine system and regulates proper hormone production. It may help aid diseases of the digestive system. It can open the third eye and clarifies spiritual vision. It can create a safe space for meditation and higher realm exploration and clears your mind. Amethyst dispels illusions that prevent you from experiences reality. It can help recreate your world.