Zodiac Signs
Sagittarius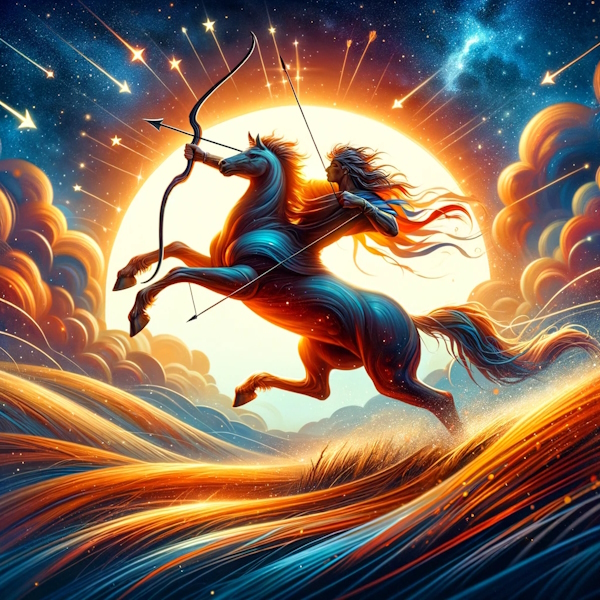 Opportunities
Expansive sign with lofty goals
Broadminded and tolerant approach
Zodiac Signs
The word Zodiac literally means animals and refers to the patterns or configurations of creatures as seen in the twinkling stars at night. The Zodiac belt is the great circle around which our luminescent Sun apparently moves month by month throughout the year, transceiving the energy of those different constellational signs and thereby transmitting the celestial radiations to our Earth. Broadly speaking, the 12 signs of the Zodiac can be divided into both masculine and feminine, positive and negative, or, active and passive. The masculine signs are Aries, Gemini, Leo, Libra, Sagittarius and Aquarius, whereas the feminine signs are Taurus, Cancer, Virgo, Scorpio, Capricorn and Pisces.
Sagittarius
Sagittarius is Fire energy and the ruler of Jupiter. This is a very active, extroverted, mobile, expansive sign. The Archer is always ready for action, bursting with goals and idealism. This sign is the very personification of jovial, outward-bound, enthusiasm -- the ultimate cosmic host or hostess with the mostess. They can be spellbinding in their philosophies! Mutable motivation brings compelling powers of attraction. Change and variety are important. Sag won't hesitate to initiate either. Without balance energy, Sagittarius can become too changeable; he or she may bend to every force or influence. Restlessness can diffuse energy, and finding a secure position in life isn't as easy as we would think. Quiet contemplation can temper the fire' and heighten the intuition. Receptivity can slow the impatient desire to move way too fast at times. What a wonderful balanced energy this is!
The Positive Side of Sagittarius:
People born under this sign are often honest and forthright. Their approach to life is earnest and open. The Sagittarian is often quite adult in his way of seeing things. They are broadminded and tolerant people. When dealing with other the person born under the sign of Sagittarius is almost always open and forthright. He doesn't believe in deceit or pretension. His standards are high. People who associate with the Sagittarian, generally admire and respect him. The Sagittarian trusts others easily and expects them to trust him. He is never suspicious or envious and almost always thinks well of others. People always enjoy his company because he is so friendly and easy-going. He Sagittarius man or woman is often good -humored. He can always be depended upon by his friends, family, and co-workers. The person born under this sign of the Zodiac likes a good joke every now and then; he is keen on fun and this makes him very popular with others. A lively person, he enjoys sports and outdoor life. The Sagittarian is fond of animals. Intelligent and interesting, he can begin an animated conversation with ease. He likes exchanging ideas and discussing various views. He is not selfish or proud. If someone proposes an idea or plan that is better than his, he will immediately adopt tit. Imaginative yet practical, he knows how to put ideas into practice. He enjoys sport and game, and it doesn't matter if he wins or loses. He is a forgiving person, and never sulks over something that has not worked out in his favor. He is seldom critical, and is almost always generous.
The Negative Side of Sagittarius:
Some Sagittarians are restless. They take foolish risks and seldom learn from the mistakes they make. They don't have heads for money and are often mismanaging their finances. Some of them devote much of their time to gambling. Some are too outspoken and tactless, always putting their feet in their mouths. They hurt others carelessly by being honest at the wrong time. Sometimes they make promises which they don't keep. They don't stick close enough to their plans and go from one failure to another. They are undisciplined and waste a lot of energy.
Combining dualism with fire we get Sagittarius. It is is fire moving here and there in search of fuel. In Aries fire burns most brightly, because it blows in a single, constant direction. In Sagittarius the fire sometimes blows back on itself and diminishes. Yet, in some ways the Aries fire istoostrong, and Sagittarius strikes the perfect balance. Sagittarius is bold and daring (fire) in its pursuit of understanding every idea and viewpoint possible (dual).