King of Wands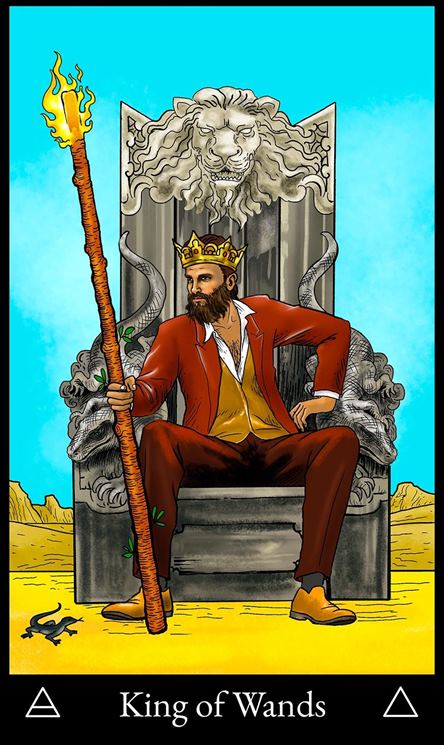 Upright
Having vision
Being daring
Tarot Court Cards
Court cards indeed have a strong personal touch. Unlike the numbered cards who show the elements against the background of the 10 Sephiroth and are more likely defining various steps of a process, the Court Cards reflect personal human attributes within the elements, and the elements within the elements.
So a more frequently appearing of court cards within a reading implies that personal feelings and emotions are more important than various steps of an ongoing process, wether for the person who is asking or for the cards that are answering. The differentiation between a personal feeling and a step of a process is very important in reading the cards.
King of Wands
"Your life has, and will take you to, what you always wanted to achieve."
The king sitting on his throne represents power, authority, self-control, and heroic leadership. It symbolizes that your energy, experience, and enthusiasm enable you to accomplish your targets and to take control of your life in your hands. Your exemplary straightforwardness and vision make you an inspiration for others. You are all set to enter a golden phase of fame, success, and fulfillment.
Your long-term planning, right intent, and solid determination make you stand out among your competitors. You are a born leader who knows to keep people on track for realizing success. You feel bored with predictable things. You crave adventure in life and love to travel unexplored paths. You are someone who embraces big challenges without any fear because you prefer to lead and pave your paths instead of following others.
The lion on the throne symbolizes mastery, honor, and authority. It refers to your ability to conquer others' hearts and new territories with your wisdom and charismatic personality. The lion also denotes pride that might make you act like a benevolent dictator who makes life joyful for those he likes and hell for those who displease you.
The crawling salamander symbolizes the fiery and arrogant side of your personality. If someone tries to restrict you, they have to face your self-centered, controlling, and hot-tempered side. Otherwise, you are someone always praised for being loyal, honest, protective, and passionate. The king of wands brings the happy news of having a flourishing career and a sincere life partner. Being a career-focused & action-oriented individual, sometimes you forget to take time to spend with your loved ones. You need to balance your work routine to draw some quality moments for you and your partner.
Reversed King of Wands Meaning :
The reversed side of this card brings your bossy and arrogant nature to light. It represents the fiery nature that makes you prone to make wrong decisions. Do not be carried away with your high expectations, as it is unreasonable to expect others to favor you and leave everything on luck to turn your plans into actions. Try to be realistic and productive to steer yourself in the direct direction. You can turn your dreams into reality if you sincerely work for your goals.
Useful King of Wands Crystals