6 of Wands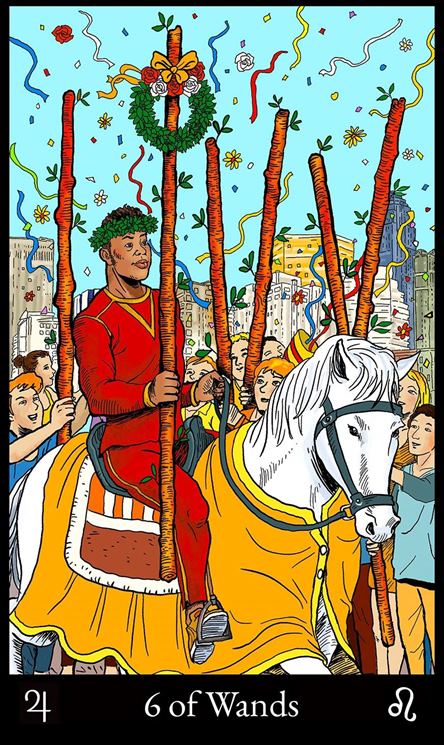 Upright
Basking in victory
Acknowledging fame & pride
Tarot Minor Arcana
The Minor Arcana cards contain answers to questions from everyday life, thus complementing to the aspects of the main Tarot cards. There are 56 cards in the Minor Arcana, divided into 4 Suits times 14 Cards. Each suit is represented by a symbol, Pentacle, Wand, Cup, or Sword. There is a one-to-one correspondence between these symbols and the four elements of the esoteric science: earth, water, air, and fire.
6 of Wands
"Embrace your uniqueness and display your talents because no one is like you."
6 of wands is the card of fame and recognition through excellence. You are brilliantly talented and know your worth. You might have already achieved public fame for your god-gifted talents of managing everything well whenever you are entrusted with some responsibility. You know to harness your strengths and abilities to avoid distractions and focus on attaining your ambitions.
The man riding his horse among the people represents the leader's heroism, and the respect gained for solving people's problems. This image of the victory parade might apply to your life as well. Your teammates cherish your leadership qualities and do not hesitate to applaud you. It is time to take action and let your fresh voice be heard to change society. The people who want change will surely join you in your mission. The white horse symbolizes strength, purity, and the succession of an adventure.
You are proud of your work life and leave no stone unturned to fulfill your professional responsibilities. A long-due promotion is forthcoming to add more to your joy. All the problems you have encountered recently will be settled in your favor, and it is your time to prove your worth to everyone and reap the fruit of fame for you. Enjoy this moment of satisfaction and peace. Do not let egoism destroy your confidence.
Your dedication & perseverance have always helped you to thrive even in the most challenging hours. Now your life is all settled, and there is nothing to worry about. If you have had your eye on buying a new house or upgrading your vehicle, it will soon be as you wish.
If you are single and searching for a partner, 6 of wands reveals that you will soon find your soulmate, the one who will support you through every thick and thin. 6 of wands is the representation of the stability of your relationship. If you are already in a relationship, it is also a rejoicing period for you because your couple goals are sure to come to fruition, and you two together have a bright and joyous future.
Reversed 6 of Wands Meaning :
Reversed 6 of wands propels you to agree upon taking a leading role in your life even if you feel you are not prepared yet. With the rewards of leadership comes a lack of privacy, expectations, and a fear of failures. Just stay focused and ensure to give your best and never negate the reality. Make adjustments in your behavior and routine to accommodate people's expectations.