3 of Cups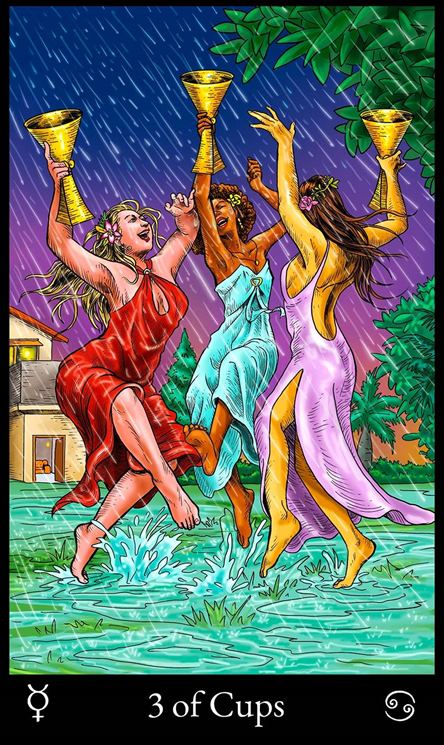 Upright
Having Celebrations
Strengthening Friendships
Tarot Minor Arcana
The Minor Arcana cards contain answers to questions from everyday life, thus complementing to the aspects of the main Tarot cards. There are 56 cards in the Minor Arcana, divided into 4 Suits times 14 Cards. Each suit is represented by a symbol, Pentacle, Wand, Cup, or Sword. There is a one-to-one correspondence between these symbols and the four elements of the esoteric science: earth, water, air, and fire.
3 of Cups
"Do not hesitate to ask your family for support. You need their trust and support to achieve what you want."
The three of cups card shows the image of three dancing women and raising their cups high in the air to celebrate their joy amidst the rain. They have respect, appreciation, and honor for each other. Their love and friendship tie them together in a beautiful relationship. The rain symbolizes their purity and belief in each other. The card reflects the beauty, growth, and compassion shared by the women.
The appearance of three of cups in your draw denotes the period of happiness and letting go of the past to spend quality time with family and friends. It is the time to reconnect with those whose company you cherish the most. Remember, your family and friends are always there to support you and help you manifest your dreams.
Just like the three women on the card who are always beside each other to lift them to higher levels of success, your people are always there for you. You can always count on them without any doubt. The card encourages you to plan a get-together or any meetup to connect with your closest friends and share your joys and compassion with them.
The appearance of this card signifies a sociable period. Do not ignore this opportunity to get closer to your family and friends because it gives you a chance to forget about your daily worries and focus on enjoying yourself.
When it appears reversed in your draw, the three of cups hints at your preference to stay alone at this moment. Perhaps you are tired of double-faced people and do not want to take more stress. It is OK to spend some time alone. If you are comfortable leading your work alone than group work, it's fine to work independently.
Reversed 3 of Cups Meaning :
The situation can be the opposite, too, because reversed three of cups also reveals your over-indulgence in partying and neglecting your duties. Be mindful of your actions because isolation and over-indulgence both are harmful in the long run. You have to see whether you want a bunch of sincere people around you or a crowd. The comfort of your life is in your hands.