6 of Cups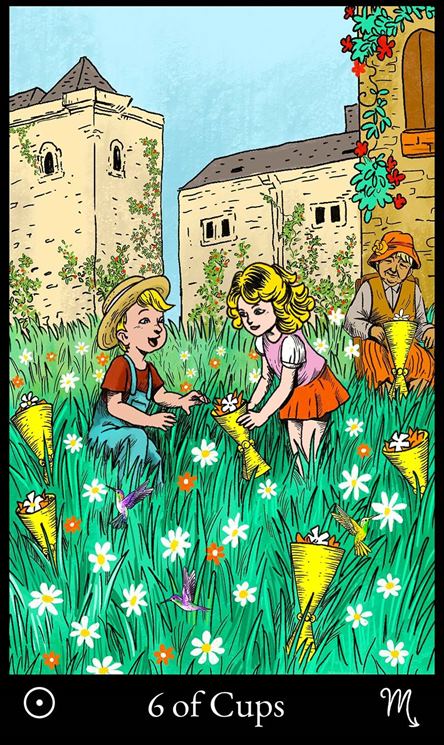 Upright
Being Generous
Feeling nostalgic
Tarot Minor Arcana
The Minor Arcana cards contain answers to questions from everyday life, thus complementing to the aspects of the main Tarot cards. There are 56 cards in the Minor Arcana, divided into 4 Suits times 14 Cards. Each suit is represented by a symbol, Pentacle, Wand, Cup, or Sword. There is a one-to-one correspondence between these symbols and the four elements of the esoteric science: earth, water, air, and fire.
6 of Cups
"Past is an archive of wisdom, intelligence, and happiness to connect with your inner self and ensure a happier present."
The six of cups brings refreshing innocence, openness, and optimism that things will improve with time. The card depicts cups filled with colorful flowers and a small girl giving one cup to a small boy. This sharing reflects love, harmony, and cooperation associated with this gentle act and card. The children also symbolize purity of heart and childhood memories. In the background, an old man is sitting and reminiscing about his past. He symbolizes the wisdom, understanding, and intelligence that comes with growing age. The hummingbirds remind us to be gentle and protective to ourselves and embark on the quest to learn the truth.
The card takes you back to golden memories of your childhood. It urges you to cherish your past and revisit the memory lanes to reconnect with your inner child. It brings you the motivation to connect with an old buddy and remember the times you had spent together. You have attained harmony in all your relationships, and the credit goes to your sincere and pure heart.
You are someone who finds joy in sharing without any expectation. The card also brings the happy news of turning a new page in the story of your life and starting afresh to enjoy the fun, freedom, spontaneity, and playfulness like a child. Remembering the past with freshness enables you to see the possibilities for the future that are always available for you.
Reversed 6 of Cups Meaning :
With reversed six of cups, you can close the past accounts that are holding you back from unleashing new potentials. Revisit wounded places calmly without any fear. Nostalgia only hits hard if you turn pages from the past fearfully. Do not allow the snakes from the past to bite you. You have moved on in life. A fresh start requires renewed energies and full concentration.
Analyze your past mindfully to learn from it, instead of making it a haunted house of dead memories.