7 of Cups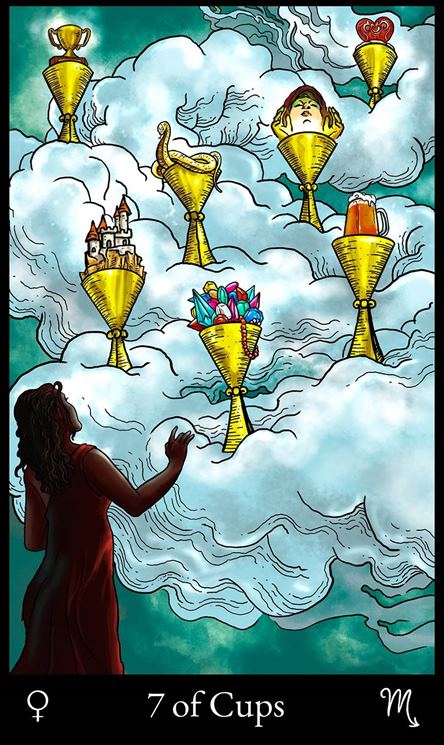 Upright
Wishful Thinking
Making Choices
Tarot Minor Arcana
The Minor Arcana cards contain answers to questions from everyday life, thus complementing to the aspects of the main Tarot cards. There are 56 cards in the Minor Arcana, divided into 4 Suits times 14 Cards. Each suit is represented by a symbol, Pentacle, Wand, Cup, or Sword. There is a one-to-one correspondence between these symbols and the four elements of the esoteric science: earth, water, air, and fire.
7 of Cups
"Allow yourself to dream. Dreams open new channels of creative ideas and produce magnificent results."
You have drawn the card of imagination, dreams, and vision that steers you to invent a future different than the present you are living in. The card shows the image of a woman looking at cups filled with different things. Some cups are filled with desirable gifts, whereas the others seem to be carrying curses or warnings. The clouds and cups represent a woman's desires and wishes, and the various gifts suggest choices and options available for him. You have to be focused on making careful choices because illusions can distract you.
The seven of cups indicates that you have many choices in front of you, but your ego is pulling you in the opposite direction to your dreams. Do not feel overwhelmed by the number of choices. Remember, some choices have a time limit. You have to make quick decisions before you lose your chance. Inaction delays your chances to reach your destination.
Listen to everyone's suggestion, but follow what your heart instructs you. The card invites you to come out of your comfort zone and dream big. Success and fame come to those who strive to dream and achieve big. You have to set your intentions aligned to your higher self. You may be thinking that you can juggle many things at a time. But in reality, things are not as you are imagining. The card reminds you to ground your dreams in reality.
Reversed 7 of Cups Meaning :
The reversed card appears when you feel caught between the devil and the deep sea. Your creative imagination pulls you to think differently and try new things. However, your rational mind demands you to rely on inner wisdom to decide the best for you. Do not run after many ideas. Pick the one and work on it dedicatedly for your real benefit.
Do not doubt your abilities. Think positively. Make sure to review everything before executing your plans. Your optimism and innovation can bring you amazing results.