9 of Cups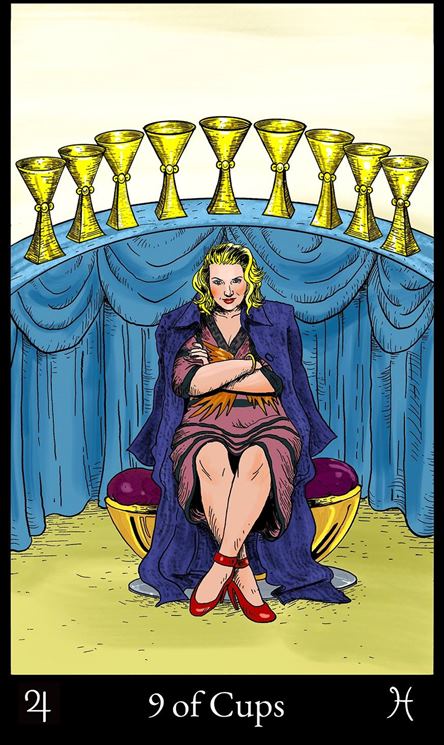 Upright
Feeling Satisfaction
Gaining Recognition
Tarot Minor Arcana
The Minor Arcana cards contain answers to questions from everyday life, thus complementing to the aspects of the main Tarot cards. There are 56 cards in the Minor Arcana, divided into 4 Suits times 14 Cards. Each suit is represented by a symbol, Pentacle, Wand, Cup, or Sword. There is a one-to-one correspondence between these symbols and the four elements of the esoteric science: earth, water, air, and fire.
9 of Cups
"Follow your intuition to unravel the best choices for you and reap satisfaction."
The nine of cups images a woman sitting on her couch with crossed arms. Her sitting posture and smiley face mirror her satisfaction and gratitude for everything she has in life. Behind her, 9 cups are arranged in an arch on a curved structure draped in blue cloth. The cups symbolize material and spiritual fulfillment and success. The woman seems a manifestation of contentment and recognition after accomplishing the most cherished desires.
The appearance of this card reflects happiness and victory. You are happy and satisfied with your life at this moment because you have accomplished your targets. Currently, you are savoring your success, but you are also conscious of making new plans and setting targets to achieve your highest good. The nine of cups suggests that the sky is the limit for you, and you want to serve the community at large to share your happiness with others.
This card comes as a positive omen for you that all the heaviness, discomfort, and doubts are finally over. It is time to appreciate and cherish the beauties of life. The time, people, and situations-everything are supportive and nurturing for you. Do not forget to have gratitude to others you have been by your side and thank yourself for maintaining your path.
Reversed 9 of Cups Meaning :
The reversed appearance of this card reveals that you are not happy with the outcomes of your efforts. You believe that you deserve better than what you have got. You feel as something is missing. You might be thinking in terms of material gains. But remember, money can not buy you true happiness. Do not confine yourself to material wealth and never be proud of your material gains.
If you cannot find happiness and contentment in life, you need to change your definition of achievements, victory, and happiness. It is time to reconnect with your soul and reframe your ideas to bring your dreams to reality. The card warns you not to overindulge in anything at the cost of your health and family.