Zodiac Signs
Libra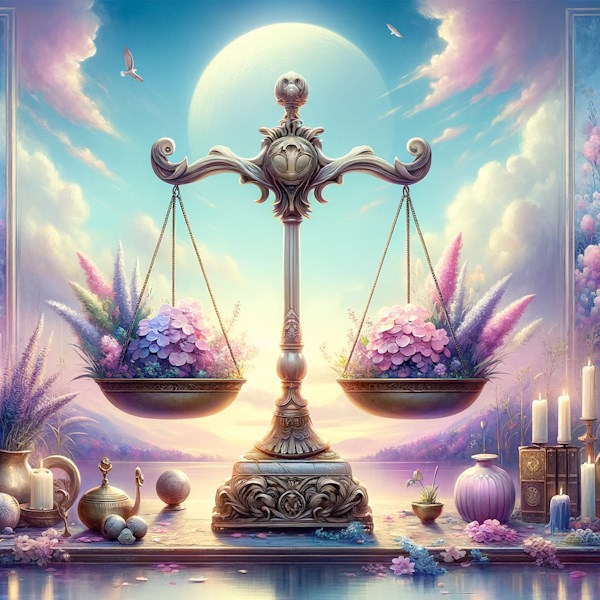 Zodiac Signs
The word Zodiac literally means animals and refers to the patterns or configurations of creatures as seen in the twinkling stars at night. The Zodiac belt is the great circle around which our luminescent Sun apparently moves month by month throughout the year, transceiving the energy of those different constellational signs and thereby transmitting the celestial radiations to our Earth. Broadly speaking, the 12 signs of the Zodiac can be divided into both masculine and feminine, positive and negative, or, active and passive. The masculine signs are Aries, Gemini, Leo, Libra, Sagittarius and Aquarius, whereas the feminine signs are Taurus, Cancer, Virgo, Scorpio, Capricorn and Pisces.
Libra
Libra represents the Air element. It is a sign that is more extroverted and active. For Venus inspired
Libra, beauty, balance and harmony are important. There is a great need to share, to be fair and impartial. Even with this need for calm, Libra remains a very active, outwardly radiating personality. Libra is the cheerleader we all need to work together and build a team! With all of these positives here, how can the sign of The Scales be unbalanced? Sometimes loving Libra can need others too much and fall into the trap of dependency. The need for partnership leads this sign to falsely believe that there is no personhood with a partner. The temptation is to give away too much to others and reserve too little for oneself. Then life reels out of control. Trying to be too fair undermines decision-making abilities. Libra may fear making the wrong choice or upsetting others. Inward-focused energy restores balance. Libras thrive when they give themselves permission to take care of themselves.
The Positive Side of Libra:
Librans love harmony. It is one of their most outstanding character traits. They are interesting in achieving balance; they admire beauty ad grace in things as well as in people. Generally speaking, they are kind and considerate people. Librans are usually very sympathetic. They go out of their way not to hurt another person's feelings. They are outgoing and do what they can to help those in need. People born under the sign of Libra almost always make good friends. They are loyal and amiable. They enjoy the company of others. Many of them are rather moderate in their view; they believe in keeping an open mind, however, and weighing both sides of an issue fairly
before making a decision. Alert and often intelligent, the Libran , always fair-minded, tries to put himself in the position of the other person. They are against injustice; quite often they take up for the underdog. In most of their social dealings, they try to be tactful and kind. They dislike discord and bickering, and most Libras strive for peace and harmony in all their relationships. The Libra man or woman has a keen sense of beauty. They appreciate handsome furnishings and clothes. Many of them are artistically inclined. Their taste is usually impeccable. They know how to use color. Their homes are almost always attractively arranged and inviting. They enjoy entertaining people and see to it that their guests always feel at home and welcome. The Libran gets along with almost everyone. He is well-liked and socially much in demand.
The Negative Side of Libra:
Some people born under this sign tend to be rather insincere. So eager are they to achieve harmony in all relationships that they will even go as far as to lie. Many of them are escapists. They find facing the truth an ordeal and prefer living in a world of make-believe. In a serious argument, some Librans give in rather easily even when they know they are right. Arguing, even about something they believe in, is too unsettling for some of them. Librans sometimes care too much for material things. They enjoy possessions and luxuries. Some are vain and tend to be jealous.
Air and Cardinality blend in libra. The result is a sign with practical sensitivity (a trait of air) in spite of its strong opinions. Libra is like a strong wind blowing due north (or south, or in any clear, decisive direction). Therefore this sign is full of important opinions and evolutions of a practical and tangible nature.