4 of Wands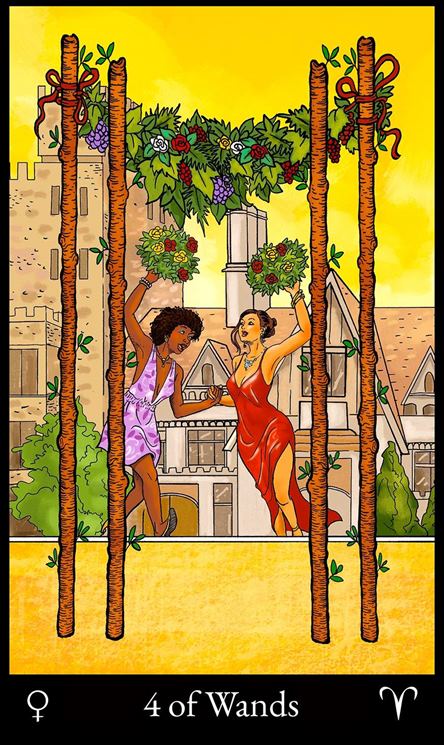 Upright
Time to celebrate
Finding happiness
Tarot Minor Arcana
The Minor Arcana cards contain answers to questions from everyday life, thus complementing to the aspects of the main Tarot cards. There are 56 cards in the Minor Arcana, divided into 4 Suits times 14 Cards. Each suit is represented by a symbol, Pentacle, Wand, Cup, or Sword. There is a one-to-one correspondence between these symbols and the four elements of the esoteric science: earth, water, air, and fire.
4 of Wands
"Your joy lies in celebrating & sharing the fruits of success with your loved ones. The best way to find peace is to uplift the spirit of people around you."
The dancing couple, floral canopy, and welcome wreath show joyous celebrations and homecoming. Gear up to welcome the period of holidays and enjoy your time with friends and family. Reunions do not need special occasions. Plan a get-together to rest, relax and reinvigorate yourself in the company of your loved ones.
The pair holding their hands symbolize teamwork to manifest something valuable and everlasting. The card is symbolic of the inspiration, success, and joy that comes from partnership. Collaboration supports productivity, nurtures creative ideas, and attracts like-minded people to unlock new possibilities. So share your vision, thoughts, and ideas freely because it will help you receive approval, abundance, and support. Drawing 4 of wands also entails that you are about to reach an important milestone in your project/business/education/career. So if you were waiting for a reason to celebrate, you have every reason to be proud of yourself as you have managed everything perfectly.
The 4 of wands is the card of reunions, festivities, celebrations & gatherings. It is time to public your relationship status and to introduce the love of your life to your family and friends. The season of engagements/weddings/gatherings to commemorate your feelings has finally arrived. If you are looking for a partner, these gatherings might help you find your soul mate.
Do not worry about your financial conditions. Promising financial stability is around the corner and allows you to keep showering your love & care to those you love. Spending money on them multiplies your happiness and encourages you to give your best in everything to ensure smiles on their faces.
Reversed 4 of Wands Meaning :
The upright position of 4 of wands indicates stability, balance, happiness, and harmony. The reversed position hints at a complete breakdown and lack of unity within your personal and professional circles. Some internal conflicts and many tensions are growing between your family members and among your teammates. You want their support but what you might get in response is a lack of interest and nonchalant behavior from their side.
Share your vision and use your charisma to attract like-minded people to achieve approval, support, and abundance.